Boathouse Curtains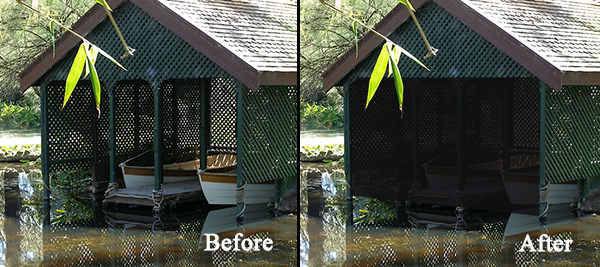 Boathouse
Curtain Mesh

Ordering Instructions

(All orders are custom made after payment has been received and cleared)

Boathouse curtains will be made in vertical panels. Max width per panel is 55" - multiple panels will be made to fit the width of your boathouse. Alternatively, the mesh can be sewn/seamed into one panel (seams are visible and the heavy duty stitching can have a rough appearance)
Measure exact overall width you want the mesh to cover.

Check to be sure there are no obstructions vertically on both sides at that width.

Measure the exact height you would like the mesh to cover (above, at, or below water line).

Looking at the inside of the boathouse at the top of opening, measure the height of available mounting area.

After taking measurements, verify there are no obstacals that the mesh could get jammed in or hung up on. Take note of all possible issues and hazards.

If possible, send photos of boathouse, inside and outside.

Email us all of the above information so we can give you an estimate.
* We accept major credit cards, PayPal and checks.
Home | Order Under Door Mesh | Order Full Curtains
Boathouse Tips: How to keep ducks, geese, birds and other animals out of your boathouse
Email: sales@boathousedoormesh.com
---
Copyright 2019 © Boathouse Door Mesh.com